Centrum Silver
Age-Adjusted For Your Changing Nutritional Needs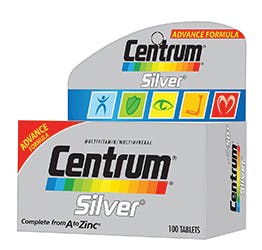 Even if we are conscientious about eating healthily, there might still be a gap between the nutrients we need and those we actually consume. Centrum Silver is a complete multivitamin for men and women aged 50 and above, formulated to fill that nutritional gap. Specially developed to support your changing nutritional needs as you get older, Centrum Silver is fortified with Lutein for healthy eyes and Lycopene for healthy heart.
World's No. 1 Multivitamin.
Centrum is a well-trusted brand. It was the only multivitamin chosen by researchers in a landmark 12 year study that involved around 15,000 male subjects to evaluate the benefits of multivitamins.
A prior version of Centrum Silver formulation was used in the study published on Journal of the American Medical Association. Centrum Silver currently available in stores has since been updated and improved to reflect advances in nutritional science.


Optimal health during retirement
Centrum Silver is a complete multivitamin with 26 nutrients and essential Vitamins A, C, E & Zinc with Selenium for stronger immunity and to bridge any nutritional gaps in your diet.

Energy For Family & Myself.
Have energy for what you hold dear. Centrum Silver contains B Vitamins Complex to support energy release from food.

Immunity
Vitamins A, C, E, Selenium and Zinc help support a healthy immunity.

Healthy Eyes
Contains Lutein, an antioxidant to help main healthy eyes from the damaging effects of free radicals.
Healthy Heart
With Lycopene, Vitamin B and Folic Acid to support optimal heart health.

Healthy Bones
Vitamin K supports bone health.
Why Centrum Silver?

Age-adjusted for seniors, Centrum Silver is specially formulated to support your changing nutritional needs as you get older.

Each Centrum Silver Tablet Contains

Lutein

Iron

Lycopene

Potassium

Pantothenic Acid

Vitamin A

Calcium

Vitamin D3

Phosphorus

Vitamin B1

Chromium

Vitamin B2

Copper

500 mcg

4 mg

600 mcg

80 mg

10 mg

4000 IU

200 mg

600 IU

50 mg

2.18 mg

100 mcg

3.2 mg

0.5 mg

Vitamin B6

Iodine

Vitamin B12

Manganese

Vitamin C

Magnesium

Vitamin E

Niacinamide

Vitamin K1

Selenium

Folic Acid

Zinc

Biotin

8 mg

150 mcg

25 mcg

3.5 mg

90 mg

50 mg

75 IU

15 mg

25 mcg

55 mcg

300 mcg

7.5 mg

45 mcg

Azo-Dye Free (Tablet is now grey in colour)
Preservatives Free

Who is it for?

Centrum Silver is suitable for men & women aged 50 years & above who lead busy, active lifestyles.

Directions for use

Seniors – Take one Centrum Silver tablet daily after food with water.

Important information:

If you are using blood thinner products, consult your doctor before use.

Recommended Dietary Intakes (RDIs) and Centrum

Centrum Silver does not contain excessive levels of vitamins and minerals but is developed with levels close to the RDIs, as the role of a multivitamin is to supplement the diet, not replace it. Centrum Silver is ideal for filling nutritional gaps in your diet.