Centrum For Men
A Complete Multivitamin Specially Formulated For Men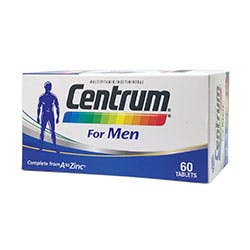 Men and women have different body compositions and nutritional needs. That's why we developed Centrum® for Men with adjusted levels of vitamins and minerals to fill the specific nutrition gaps of men below 50.
Based on the latest findings in nutritional science, Centrum for Men has more B vitamins# and Zinc. The antioxidant selenium to address the unique health needs of today's men.
Fill Nutrition Gaps

On top of the complete formulation of vitamins and minerals you trust from Centrum, Centrum for Men also has more B vitamins, zinc to meet the unique health needs of men and fill nutritional gaps in their diet.

Keep your Brain Healthy

Centrum for Men has Zinc and B-vitamins to maintain brain health.
Keep Your Heart Strong.

Centrum for Men has Lycopene, Vitamin B6, B12 and Folic Acid to help maintain a healthy heart.

Energy & Vitality Support

Contains B Vitamins (Thiamin, Riboflavin, Niacin, B6, B12, Folic Acid, Pantothenic Acid, and Biotin) that play an important role in converting proteins, fats, and carbohydrates into energy.

Immunity Support

Contains vitamins and minerals such as Vitamins A, C, and E, Selenium, Zinc, and Iron which helps support immune system.

Healthy Muscles

Contains magnesium, Vitamins D and B6 to support optimal muscle health.
Why Centrum For Men?

Specially formulated with more B vitamins, Zinc, Centrum for Men uses the latest in nutritional science to address the unique health needs of men.

As the World's No.1* multivitamin brand, Centrum for Men is a complete multivitamin that fills in your nutritional gaps and ensures that your body functions at its best every day.

#Compared to Centrum Advance.

Each Centrum for Men Tablet Contains

Lutein

Biotin

Lycopene

Iron

Pantothenic Acid

Vitamin A

Calcium

Vitamin D3

Chromium

Vitamin B1

Copper

Vitamin B2

Molybdenum

1 mg

54 mcg

600 mcg

5 mg

13.6 mg

1000 IU

200 mg

400 IU

35 mcg

4.6 mg

0.5 mg

4.6 mg

50 mcg

Iodine

Vitamin B6

Manganese

Vitamin B12

Magnesium

Vitamin C

Niacinamide

Vitamin E

Selenium

Vitamin K1

Zinc

Folic Acid

150 mcg

6.0 mg

3 mg

25 mcg

84 mg

150 mg

16 mg

55 IU

55 mcg

50 mcg

11 mg

200 mcg

Directions for use

Take one tablet with water after food daily.

Important information:

This product contains Vitamin K. If you are using blood thinner products, consult your doctor before use.

How is it developed?

Nutritional needs vary for men and women. That's why Centrum has developed a product specially to meet the health needs of today's man based on the latest in nutritional science.ecommended Dietary Intakes (RDIs) and Centrum Vitamin C