Centrum For Men 50+
Unique Blend To Meet Specific Needs Of Men Over 50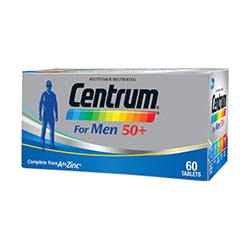 Ageing is nothing but a state of mind. You want to keep up, keep going and never stop moving forward.
That's why we developed Centrum for Men 50+, a complete multivitamin formulated to fill the specific nutrition gaps of men 50+. Containing 25 key nutrients including all 13 essential vitamins, Centrum for Men 50+ is formulated with more Lutein, Zinc, Magnesium and B group vitamins# to specifically meet the health needs of men over 50.

Support Energy Level
Keep your energy level up even after a big meal. Centrum for Men 50+ contains B vitamins to support the metabolism of fats, carbohydrates and proteins for energy.

Healthy Brain

Packed with essential vitamins and minerals including Zinc and B vitamins to support healthy brain.
Fill Nutrition Gaps

Unique blend with adjusted levels of B-vitamins to support heart health and meet the specific needs of men over 50 and bridge any nutritional gaps.

Immune Support

With key antioxidants such as Vitamins A, C & E, Beta Carotene, Selenium and Zinc to help support immune system.
Healthy Heart

With Lycopene, Vitamin B and Folic Acid to support optimal heart health.
Why Centrum for Men 50+?

On top of the complete formulation of vitamins and minerals you trust from Centrum, Centrum for Men 50+ is also personalized with more Lutein, Zinc, Magnesium and B group vitamins for men over 50#.

As the World's No.1* multivitamin brand, Centrum for Men 50+ is a complete multivitamin that fills in your nutritional gaps and ensures that your body functions at its best every day.

# Compared to Centrum Silver (Advance Formula)

Each Centrum Men 50+ Tablet Contains

Lutein

Biotin

Lycopene

Iron

Pantothenic Acid

Vitamin A

Calcium

Vitamin D3

Chromium

Vitamin B1

Copper

Vitamin B2

1200 mcg

54 mcg

600 mcg

4 mg

13.6 mg

2500 IU

230 mg

500 IU

100 mcg

4.6 mg

0.5 mg

4.6 mg

Iodine

Vitamin B6

Manganese

Vitamin B12

Magnesium

Vitamin C

Nicotinamide

Vitamin E

Selenium

Vitamin K1

Zinc

Folic Acid

Molybdenum

150 mcg

12 mg

3 mg

45 mcg

84 mg

150 mg

16 mg

60 IU

55 mcg

50 mcg

11 mg

300 mcg

50 mcg

Directions for use

Take one Centrum For Men 50+ tablet everyday after food with water or as per directed by your doctor. Do not exceed recommended daily dose. If taking other supplements, read label, since supplements may contain the same ingredient.

How is it developed?

Based on nutritional science, the new Centrum For Men 50+ has 23 essential vitamins and minerals plus 3 other antioxidants to help fill in any nutritional gaps.
This optimised formula contains key nutrients, chosen based on scientific evidence to support the specific needs of men over 50.
Centrum products are manufactured to high pharmaceutical standards in state-of-the-art facilities, and undergo more than 30 individual tests before being made available to consumers.