Training for Your First Race: Anyone Can Do It
HEALTH & WELLNESS
10.21.2014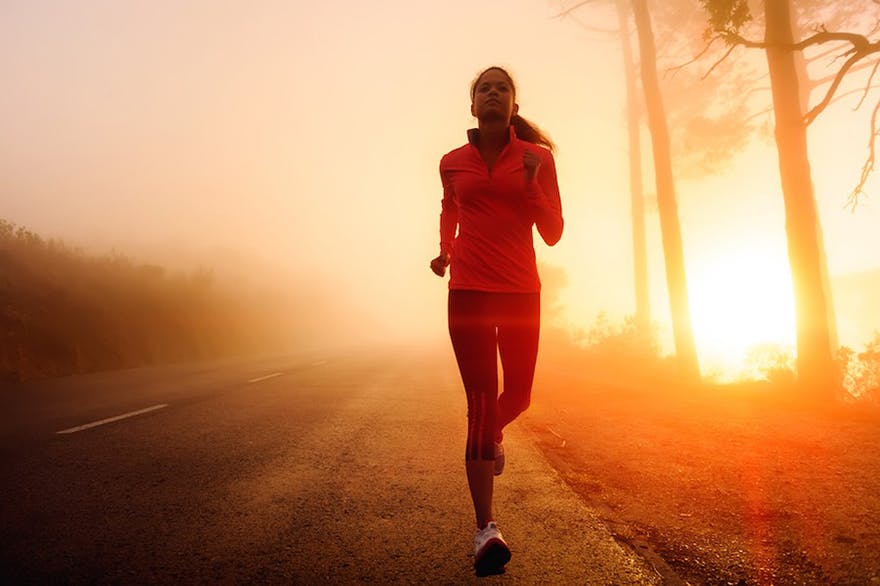 I still remember the feeling: I stood, waist deep, in a lake—wetsuit, swim cap, and goggles on—refusing to go any further. This would be my first open water swim. My husband, kids, and mom were in kayaks nearby waiting to cheer me on (and, grab me, should I go under and start to drown…was my thinking!). Truth be told, I was scared, really scared. I had signed up for my first triathlon and needed the practice in the open water. I had splashed around in the lake before, but never ventured beyond the buoys. This was my first time.
I stood there, talking to myself, encouraging myself to go in. And finally I did. I started swimming, the family started kayaking, and before I knew it, I was out in the open lake. I kept swimming—and before I knew it, I had finished my 1.5-mile loop and was back on the beach, exhilarated.
The feeling of accomplishment was incredible. And when I finally ended up crossing the finish line of the Philadelphia Women's Triathlon, I felt amazing. (I think I placed somewhere around 400 out of 1,000 women.)
If you want to feel this incredible sense of accomplishment, sign up for a race in your area. It doesn't need to be a triathlon. You'll feel healthy, strong, and pretty darn confident…which carries over into all other areas of your life: your work, your family, your friends, your health…everything!
Here's how to get started:
1. Try a 5K first. This is only 3.1 miles; you can run it or walk it. No pressure. Look for an upcoming race in your area on active.com (there are plenty of races during the summer and early fall)—or check out flyers in your local hometown (I know mine always has some sort of local race going on). Then sign up for it. And tell people you're going to do it. Then you're pretty much committed. No backing out!
2. Get the proper gear. If you haven't shopped for a new pair of sneakers in awhile, this is the time. Get fitted at a running store; they'll analyze your gait (the way you walk or run) and recommend a pair of sneakers that will support your feet. Then, as soon as you get home, mark the date on the inner part of the tongue (the part that runs under the laces). Then, keep an eye on that date and replace your sneakers every 6 to 8 months. And if you need a pair of running/walking shorts, this is the time to invest in a pair. Having the right gear will only motivate you more!
3. Look for a training partner. It's motivating to have someone else practice with you; they're waiting for you to do workouts and lacing up with you before the race. If you don't know anyone, don't back out…do it yourself. (I had "partners" who were so excited to do the triathlon with me, but slowly each of them backed out—one by one until I ended up doing it myself…so partners aren't always reliable.) Set a realistic schedule for yourself—and follow it. Give yourself at least 6 weeks to practice.
4. Train at the same time every day. This builds consistency, and establishes your training as a healthy habit. Mark it on your schedule and treat it like a business meeting that can't be cancelled. (My favorite time of the day for training is the morning: it's quiet, never too hot, and there are never any conflicts—unless one of my three kids gets sick!)
5. Eat right. You can't expect your body to perform if you're putting the wrong kind of fuel into it. You need the proper nutrients to have enough energy to make it through your training—and the race. What this means? Fresh fruits and veggies, whole grains, lean protein—and your daily multivitamin (to ensure you have enough of the proper vitamins and minerals). And don't forget to stay hydrated! You don't need a fancy sports drink; studies have shown that water and even low-fat chocolate milk can keep you hydrated properly.
6. Get enough sleep. You need at least 8 hours of shut-eye a night while you're in training. This ensures that your body stays strong and your mind stays focused. And it helps your immune system stay strong, too. The last thing you want is to get sick!
Race day! Your body is strong and healthy—and you're determined, although a little nervous. If you think you can't do it, just think back to me standing in that lake. Remember: you can do anything you set your mind to. Just focus on getting to that finish line. I tell you: the feeling is incredible! (You ever wonder why marathoners just keep running more races…the post-race euphoria—whether you've just finished 26.2 miles or 3.5—is addictive!)
Image Credits: Daxiao Productions/Shutterstock.com