Nutritious Spin of Favorite Foods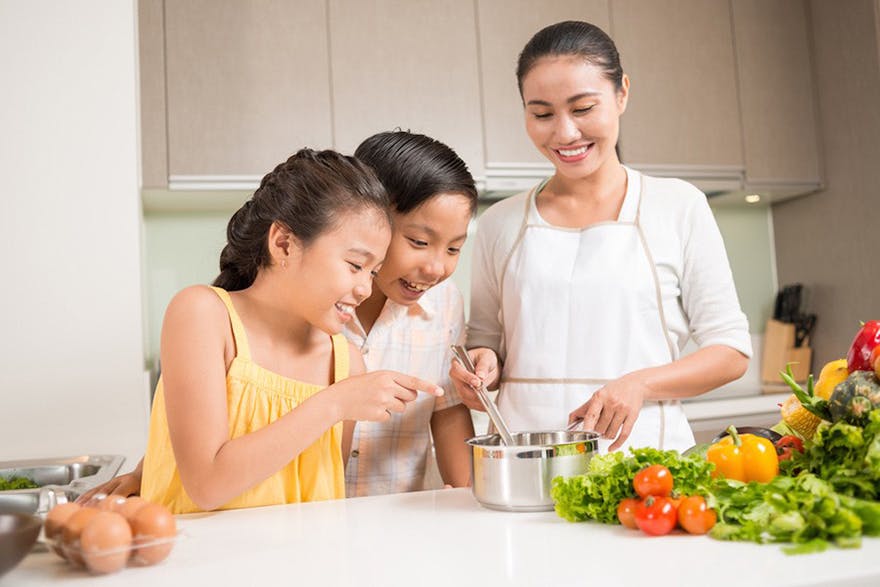 Many of us could use more of the vitamins, minerals and fiber found in whole grains, produce, and lean protein foods, and less added sugar, salt, fat, and cholesterol. Good news: You don't have to sacrifice your favorite foods for better health, even when you're celebrating with family and friends. Whether you're cooking for yourself or cooking for a crowd, simple swaps can turn traditional dishes you've loved for years into more nutritious versions without skimping on flavor.
Make It Better-For-You
Most recipes don't require major overhauls to make them healthful. Sometimes, all it takes is a simple tweak or two to a favorite recipe to make it healthier. Here are 10 ways to prepare better-for-you dishes that provide a bigger nutritional bang for the buck.

Try grilled zucchini instead of noodles for additional fiber and fewer refined grains. Chop the ends off 3 large zucchini and cut in half crosswise. Slice zucchini lengthwise into ¼-inch slices and lay flat in a large dish. Grill zucchini on each side until cooked, about 1-2 minutes. Let rest on paper to towels to remove excess moisture. Prepare your favorite lasagna recipe with the zucchini "noodles."
Swap half the beef for an equal amount of chopped, sautéed mushrooms in burger, meatloaf, pasta, and pizza recipes. Using mushrooms instead of meat intensifies the flavor while cutting calories, fat, and cholesterol, and adding minerals and vitamins. For example, mushrooms are the only vegetable with vitamin D, necessary for bone health. Check the mushroom label. Brands that have been exposed to ultraviolet light have the most vitamin D.
When butternut squash and no salt added low-fat cottage cheese stand in for some of the regular cheese in your favorite macaroni and cheese dish, you gain protein and vegetables, and lose some calories, fat, cholesterol, and sodium. Whole wheat pasta adds extra fiber. Use 1 ¼ cups no salt added low-fat cottage cheese, 1 ½ cups cooked pureed butternut squash for every 8 ounces (uncooked) whole wheat macaroni. You can reduce the shredded cheddar cheese to 1 cup, and make the dish in the usual fashion.

You'll forget all about fried chicken when you sink your teeth into oven-fried chicken tenders coated with crushed pistachios, which are rich in heart-healthy fat and potassium and low in sodium. Use a combination of ½ cup unsalted, shelled and finely ground pistachios and ¾ cup seasoned breadcrumbs for every pound of boneless, skinless chicken breasts sliced into strips.
Transform typical Sunday morning blueberry pancakes into a meal that supplies more satisfying protein and fewer refined grains. For the batter, combine until smooth in a blender or food processor: ¾ cup uncooked 1-minute oats, 1 large egg, 6 ounces fat-free vanilla Greek yogurt, and 2 tablespoons milk. Pour the batter onto a hot, greased skillet to form 4 pancakes. Top with ½ cup fresh or frozen blueberries. Instead of maple syrup, use pureed fruit, such as fresh mango or canned apricots, as a topping.
When making chicken or vegetable soup, add a can of plain pumpkin puree to the mix. Pumpkin provides a golden hue, fiber, and beta-carotene, a nutrient that supports eye health.

Double the beans and use half the beef in your favorite chili recipe. Use two or three types of beans for more interest. Swap 100% ground turkey breast for even less fat and cholesterol. Serve with toasted whole wheat pita bread broken into pieces instead of snack chips for more fiber.
Use applesauce, pureed prunes, or plain low-fat yogurt as a substitute for oil in store-bought brownie mixes. For best results, replace no more than half the amount of the fat listed on the box with the alternatives. Lower the fat further and remove some cholesterol by swapping each whole egg with 2 egg whites.
Give Friday night take-out pizza the boot in favor of this slimmer version. Place ½ cup no salt added cottage cheese in a blender and blend until smooth. Spread on a whole grain flat bread or piece of Naan bread. Top with fresh vegetables, including onions and sliced red and green bell peppers. Sprinkle with four ounces of 50% reduced-fat shredded Cheddar cheese and dried oregano. Bake until cheese has melted. Serves 2.

Substitute whole wheat flour for up to half the white flour in your favorite quick bread recipes, including pancakes, waffles, and muffins. For even more fiber, vitamins, and minerals, add dried fruit instead.
Image Credits: Dragon Images/Shutterstock.comv