Freshen Up Your Summer Routine—and Get Healthier!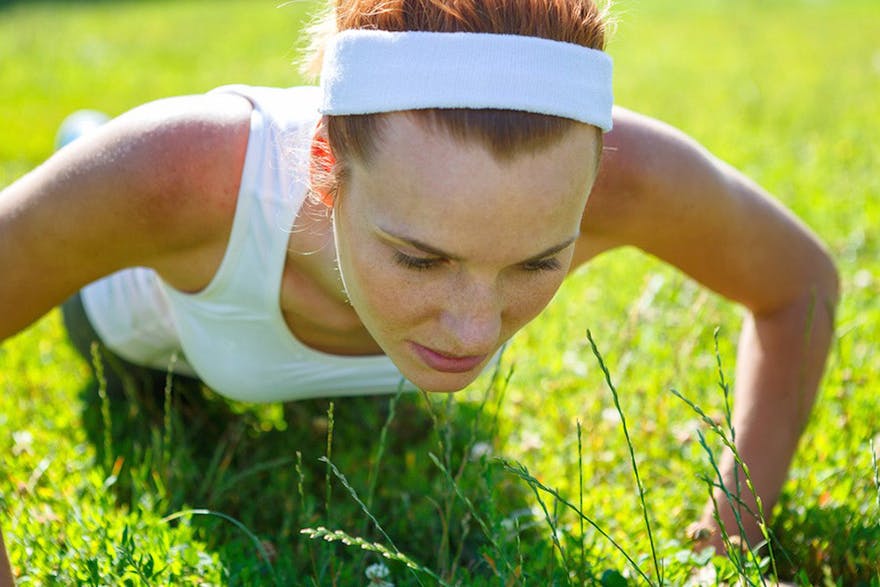 I. Love. Summer. There's something about this season—with its breezy, balmy nights (perfect for bbqs); smells (fresh cut grass, anyone?); and abundance of garden-fresh fruits and veggies—that makes me want to be even healthier. The days are also so much lazier, with people everywhere (including me!) more likely to take stress-busting vacations. This may be why, after a long winter and rainy spring, I find that I'm so much happier during the summer months (as so many people are!).
Tips for Freshening Up Your Summer Workout Routine
Summer is the perfect time to take your workout outdoors in the fresh air. Some easy ways to change up your exercise for the season:
— Try getting up earlier than usual. Set your alarm clock 30 minutes to an hour earlier (it will take some getting used to, but it's worth it!)—and get outdoors. It's one of my favorite times to walk, run, or bike around the park. The air is so incredibly fresh and sometimes there's even a mist rising from the dew-laden ground. It's also the coolest part of a summer day. It truly appeals to all the senses (and is a great time to get your mind clear for the day ahead).
— Jump in the pool. 'Tis the season to get out of the gym! My all-time favorite workout during the summer months: swimming laps in my local outdoor pool. Not only is swimming great cardio exercise, it also doesn't put any pressure on your joints like running can. Don't want to swim? Get on a bike: it's one of the easiest, and most enjoyable ways to get around in summer—and you can rent one pretty much wherever you go. It, like swimming, is also easy on the joints. Just be sure to always wear a helmet.
— Sign up for a ride - or a race. There are an abundance of outdoor bike rides and races (from 5Ks to triathlons) that—depending on your fitness level—can get you moving during the summer months. (Active.com is a great source for races in your neighborhood.) You do not have to be a so-called "pro". Just sign up—and move at your own pace. You'll find that doing so will reinvigorate you and instantly freshen up your workout routine.
Tips for Freshening Up Your Summer Diet
Sure you need 8 to 9 servings of fresh fruit and vegetables a day, but this goal is easy to reach with these simple tips:
— Sign up for a CSA (Community Supported Agriculture); you pay a little to support a local farmer—and in return, you get plenty of fresh fruits and veggies from that farmer every week, typically through to Thanksgiving. (Go to localharvest.org to find a CSA near you.) Other options: visit your local farmer's market or just your local grocery store and opt for local fruits and veggies. The benefit: you'll be eating what's in season—which some experts say is better for you. There is a greater chance of local seasonal veggies having higher content of vitamins.
— Make smoothies Summer's a great time to introduce these to your diet (they make great breakfast add-ons): you can literally blend in just about any fruit, with ice, juice or milk, and/or calcium- and probiotic-rich yogurt to create a seasonal-friendly drink. A few smoothie tips:
√ Fresh is best; blend in nutrient-rich strawberries, blueberries, raspberries, mangoes, you name it. Even bananas are great (see next tip for exception), but add fresh fruit last, as it doesn't require a lot of blending.
√ Make the best of brown bananas; just peel them and freeze in a plastic freezer bag. Then add them frozen to smoothies in place of ice for yummy flavor.
√ Add in extra nutrients with ingredients like ground flaxseed, which is high in healthy omega-3 fatty acids; ground oatmeal (high in fiber), and even a pinch of antioxidant-rich spices like turmeric, cardamom, and cinnamon. Experiment to find a flavor that works for you.
√ Don't add extra sugar; there are plenty of natural sugars in fresh fruit (and fruit juice, if you add that as well).
— Grill up some veggies. Sometimes they can be even tastier than meat! Grill up Portobello mushrooms, add peppers and onions with meat to kabobs, and try grilling fresh corn, asparagus, sweet peppers, even eggplant! But be sure to either marinate the veggies first—or brush with olive oil—to prevent them from sticking. For added flavor, sprinkle fresh (and antioxidant-rich) herbs like tarragon, oregano, and thyme to the veggies before grilling.
√ Keep fresh fruits and veggies in plain sight. It sounds so simple, but you'd be surprised how many people don't do this. If you keep fresh produce already washed and easily accessible, you'll be more likely to eat it. Slice up a bowl of cucumbers, carrots, celery, or sweet peppers and leave in a bowl in the front of your fridge. Or leave a bowl of fresh fruit out on your kitchen counter—or at your desk so it's the first thing you reach for when you get hungry.
By incorporating these simple tips into your daily summer routine, you'll find that you'll feel healthier and have more energy. Have a fresh and happy summer!
Image Credits: luckyraccoon/Shutterstock.com