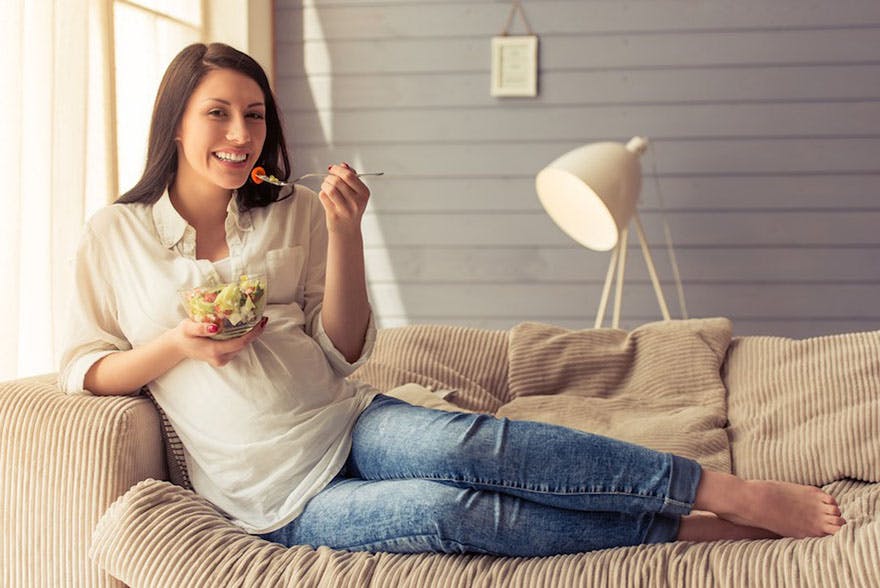 What is folic acid?
Folic acid is a B vitamin (vitamin B9). It occurs naturally, in the form of folates, in foods such as dark green leafy vegetables, oranges, wholegrains, pulses, and yeast and beef extract.

Some breads, margarines and breakfast cereals have folic acid added during the manufacturing process. Look for the round symbol with the letter "F" in the centre.

Why do I need folic acid in pregnancy?
Folic acid helps to protect your unborn baby from developing neural tube defects such as spina bifida (Blencowe 2010. De-Regil et al 2010, Stanner et al 2012).

Folic acid may also help to prevent other birth defects, such as a cleft palate (Kelly et al 2012) (De-Regil et al 2010).

Folic acid is good for you, too, as it works with vitamin B12 to form healthy red blood cells. Not having enough folic acid can cause you to have a type of anaemia. The other, more common type of anaemia, is due to a lack of iron.

What is spina bifida?
Spina bifida happens when the protective covering that grows around an unborn baby's spinal cord doesn't close properly, leaving a gap. This can lead to permanent nerve damage, and sometimes paralysis.

The first 12 weeks of pregnancy is when your baby's brain and nerve system are forming and growing fast. That's why it's important to take daily folic acid supplements during the first three months of your pregnancy (NCCWCH 2008), and ideally while you are trying for a baby.

Once you reach 13 weeks of your pregnancy (second trimester), you can stop taking the supplements if you want to, though continuing to take them won't harm you or your baby.

How much folic acid do I need to take?
You're advised to take a daily supplement of 400 micrograms (mcg) of folic acid as soon as you decide to try for a baby. Then keep taking it for the first 12 weeks of your pregnancy (FSA nd). You should also eat plenty of folate-rich foods.

If you have had a child with a neural tube defect (NTD), your risk of having another child with an NTD is higher. In this case, your doctor will prescribe a much higher daily dose of 5 milligrams (mg) of folic acid (NHS 2011, NICE 2013).

If you are taking certain prescribed medicines, such as for epilepsy, your doctor may prescribe a higher dose of folic acid. That's because these medicines may prevent your body form absorbing folic acid (NHS 2011, NICE 2013). Talk to your doctor if you have epilepsy and are trying for a baby.

If you are overweight and have a body mass index (BMI) of over 30, or if you have diabetes, you should also take a higher dose of 5mg folic acid (CMACE/RCOG 2010, Diabetes UK 2011).

If you are overweight and/or have diabetes, it increases the risk of you having a baby with an NTD (CMACE/RCOG 2010, Diabetes UK 2011, NICE 2008). Women with a higher BMI tend to have lower levels of folate in their blood. So ask your doctor for a prescription as soon as you decide to try for a baby.

Which foods should I eat to get more folic acid?
Eat plenty of foods that are rich in folates, as well as taking a folic acid supplement. These foods are also packed with other nutrients that you and your baby need. Try including some of these folate-rich foods in your meals:


Brussels sprouts
black-eyed beans
asparagus
broccoli
baked potatoes
bran flakes
hard-boiled eggs
tinned salmon
yeast extract
orange juice or an orange
brown rice
granary bread

Because folates dissolve in water, you should steam or microwave vegetables, rather than boil them. Try not to overcook these foods, as this will destroy the folates that they contain (Rees 2010).

Image Credits: Yuriy Rudyy/Shutterstock.com