Centrum - The Clear Choice
VITAMINS & MINERALS
05.30.2014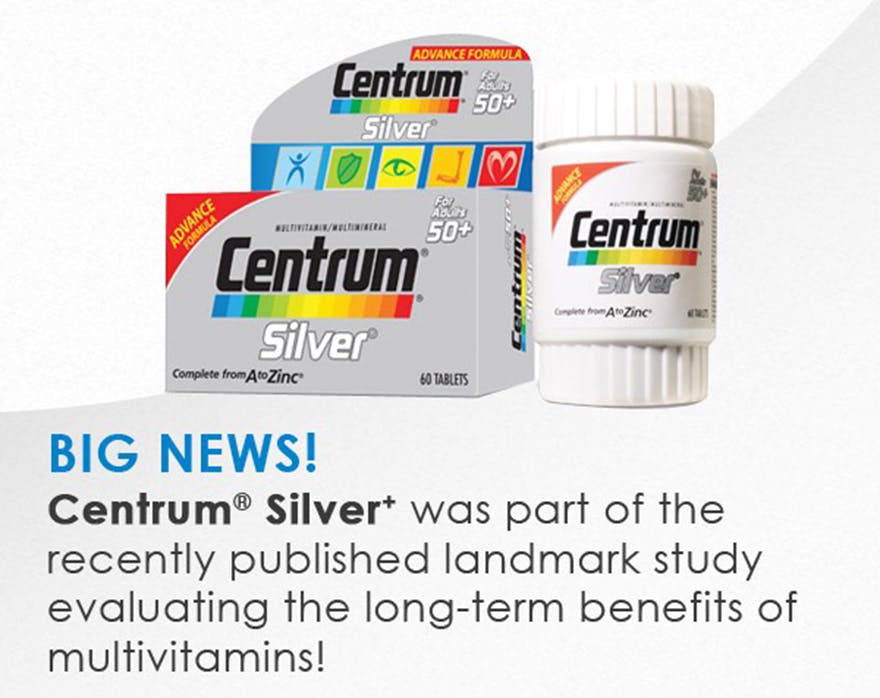 We are proud to announce that Centrum Silver 50+ was part of the recently published landmark clinical study. This landmark study evaluated the health benefits of taking multivitamins for men age 50 and older. Centrum Silver was the ONLY multivitamin used in this study!
Centrum multivitamins help people fill dietary gaps when they aren't fulfilling all their nutritional needs through food alone. And as the most recommended, most preferred, and an extensively studied multivitamin brand in the world1, Centrum stands by its heritage and is proud to have been a part of this important study.
Most Recommended
• World's No. 1 Multivitamin Brand1
• No. 1 Multivitamin Brand in Singapore2

Most Studied
• Backed by over 30 years of nutritional science
• Clinically studied
• Only multivitamin used in a landmark health study
CENTRUM SILVER - Complete from A to Zinc!
References:
1. IMS OTC Retail Plus Review for dollar sales Q4 2012
2. AC Nielsen Retail Audit Ending Nov 2012
A prior version of Centrum Silver formulation was used in the study published on Journal of American Medical Association. Centrum Silver currently available in stores has since been updated and improved to reflect advances in nutritional science.