10 Healthy Dinners in Under 20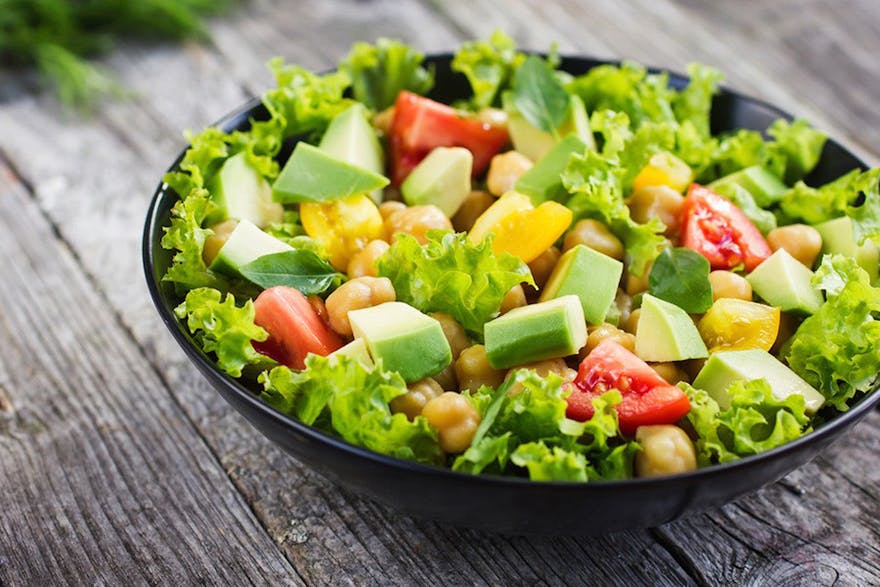 It's 5:00 PM and you're having a dinnertime dilemma. After a long day, you don't want to spend hours in the kitchen, but you don't like to rely on take-out or highly processed convenience foods, either. Good news: it takes just minutes to make nutritious and delicious dinners.
Minimize Cooking, Maximize Nutrition
They're not gourmet by a long shot, but these 10 dinners go a long way in providing the nutrients your heart, brain, and eyes need, and they can help use up leftovers, too. Unless noted, most recipes serve one.
Stuffed Sweet Potato:
Microwave a medium sweet potato on HIGH until soft, about 5 minutes, or use a warmed leftover cooked sweet potato. Slice lengthwise. Mash the potato inside in the shell. Layer with ¼ cup cooked 95% lean ground beef or 100% ground turkey breast mixed with canned, drained black beans. Top with 2 tablespoons of salsa and ¼ cup reduced-fat grated cheddar cheese. Pair with a green salad.
Tuna Noodle Salad.
Dressing: In a small bowl, whisk together 1 tablespoon lemon juice, 2 teaspoons olive oil, 1⁄4 teaspoon dried basil, and ½ clove garlic, minced. In a medium bowl, toss 1 cup cooked and cooled whole wheat spiral pasta, 3 tablespoons sliced black olives, a 6 ½-ounce can drained, water-packed tuna, and the dressing. Serve over 1 cup mixed greens. Enjoy with fruit.

Quick Quesadilla.
Place a 7-inch whole wheat sandwich wrap in a medium skillet coated with nonstick cooking spray. Layer with 2-3 ounces sliced cooked chicken and 1-2 ounces sliced or shredded reduced-fat Monterey Jack cheese. Cover with another 7-inch whole wheat sandwich wrap and toast until the cheese is melted. Serve with steamed frozen broccoli and fruit.
Chili.
In a large skillet, brown 1 pound 95% lean ground beef, breaking it up into very small pieces as it cooks. Drain. Remove from pan and reserve. Add 2 tablespoons olive oil to pan. Sauté 1 chopped medium onion and 4 cloves minced garlic for 3-5 minutes. Add the meat back to the pan along with 1 can each drained and rinsed black beans and red kidney beans, and an undrained 28-ounce can of no-salt-added diced tomatoes. Season with ½ teaspoon cumin and 1 teaspoon dried oregano. Heat until boiling then simmer for 5 to10 minutes. Makes 6 servings.

Portobello mushroom burger.
Brush a large, washed Portobello mushroom cap with 1 teaspoon olive oil. Sprinkle with salt and pepper if desired. Grill or broil until tender, about 5 to 10 minutes. Place cooked mushroom in a whole grain burger bun. Top with sliced cheese, lettuce, and tomato, if desired. Serve with a green salad or fruit.
Mixed Up Soup.
Mix 1 cup canned reduced-sodium lentil soup mixed with 1 cup small cooked pasta, such as orzo. Heat until warm. Pair with cooked frozen green beans and fruit.

Egg and Spinach Pocket.
Add 1 teaspoon olive oil to a small nonstick skillet over medium heat. Add 2 lightly beaten eggs and 1 cup raw baby spinach to the pan, and scramble until eggs are cooked. Place cooked egg mixture in ½ of a 7-inch whole wheat pita pocket. Top with ¼ cup reduced-fat grated cheddar cheese. Enjoy with a green salad and fruit.
Sautéed Shrimp and White Beans.
Combine 1 tablespoon olive oil, 6 ounces uncooked, cleaned shrimp and 1 cup canned white beans (drain) in a medium skillet. Sauté until shrimp are pink. Add 1 teaspoon lemon juice, and 1/4 teaspoon each salt and fresh ground black pepper. Top with chopped fresh parsley, if desired. Serve with a whole grain roll and fruit.
Grilled Cheese and Tomato Soup.
Make a grilled cheese sandwich on whole grain bread. Keep warm. Prepare a can of reduced-sodium tomato soup with low-fat milk instead of water. Place soup in a large soup bowl. Cut grilled cheese into 1-inch cubes and sprinkle on top of soup like croutons. Have with fruit.
Smoked Salmon Pizza.
Heat oven to 450°F. Spread ¼ cup low-fat ricotta cheese on a warm piece of whole wheat Naan bread, whole wheat tortilla or whole wheat pita bread . Arrange 1 teaspoon drained capers, 6 ounces of smoked salmon, and 1/8 of a red onion, thinly sliced. Bake for 5 minutes. Sprinkle with fresh chopped dill, if desired. Makes 1 to 2 servings.
Image Credits: Anna Shepulova/Shutterstock.com