Centrum Vitamin C 1000mg
Today's Dose, Tomorrow's Goals!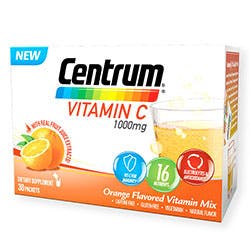 Centrum Vitamin C 1000mg is the easiest way to get your daily dose of Vitamin C. Containing actual fruit juice extract, every fizzy sip boosts your immune system further with all the essential nutrients, electrolytes, and antioxidants you need to rejuvenate your body in a delicious burst of citrusy goodness. What's more — Centrum Vitamin C 1000mg contains 5x more ingredients than Singapore's leading multivitamin product*!


Real Fruit Juice
Naturally flavoured with orange juice extract for yummy goodness!

Immunity
With 1,000mg of Vitamin C (approximately than 20# oranges worth) plus antioxidants, zinc and manganese to support your immune system.

16 Nutrients
Fortified with 16 nutrients including 1000mg of Vitamin C, 7 types of B-Vitamins to support your energy naturally, some good antioxidants, minerals & more, the 16 ingredients work together, ensuring the best support to a healthy immune system!

Electrolytes
Great for post-workout, Centrum® Vitamin C 1000mg can help replace key electrolytes lost through perspiration.

Collagen Production for Radiant, Healthy Complexion
Vitamin C is essential for aiding collagen production to give a radiant, healthy complexion.
Why Centrum Vitamin C?

From the World's No.1* multivitamin brand, new Centrum Vitamin C 1000mg is not only packed with 1000mg of Vitamin C, but also 15 other nutrients that work together to let you be at your best daily.

Each Packet of Centrum Vitamin C 1000 mg Contains

Vitamin C

Vitamin B1

Vitamin B2

Vitamin B3

Vitamin B5

Vitamin B6

Vitamin B9

Vitamin B12

Calcium

1000 mg


0.38 mg


0.43 mg


4 mg


2.5 mg


10 mg


100 mcg


25 mcg


50 mg


Phosphorus

Magnesium


Zinc


Manganese


Chromium


Sodium


Potassium

38 mg


60 mg


2 mg


0.5 mg


10 mcg


65 mg


200 mg


Directions for use
Ages 14 and up, one (1) packet daily. Empty contents into a glass, add 120-180 ml of water, stir. For lighter flavor, mix with more water.

Do not exceed suggested use. Centrum Vitamin C can be taken with Centrum Multivitamin tablets daily.

Important information:
If you are pregnant, nursing, or taking medication, consult your doctor before use.

Recommended Dietary Intakes (RDIs) and Centrum Vitamin C

Centrum Vitamin C does not contain excessive levels of vitamins and minerals but is developed with levels close to the RDIs, as the role of a multivitamin is to supplement the diet and not replace it. Centrum Vitamin C is ideal for filling nutritional gaps in your diet.
#1 small orange (96g) contains 51.1mg of Vitamin C. (USDA National Nutrient Database. May 2016.) *Nielsen Total Multivitamins Value Sales in Singapore MAT 2018 MAHP1900080
^ Based on IQVIA OTC Global Analysis June 2018 MAHP1900007